// Game Design Projects
// Other Projects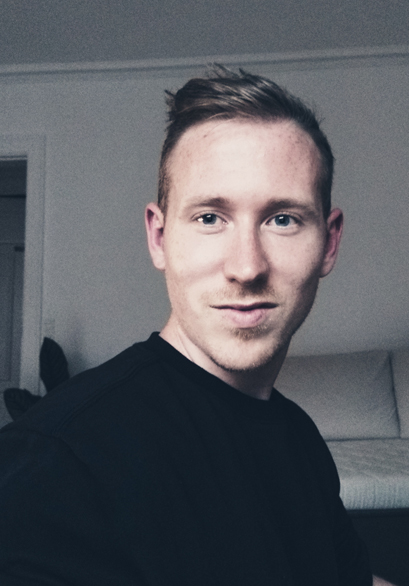 Jesper Brun Halfter.
Lead Game Designer at Bolverk Games.
__________________________
Email: jesper at game.construction
Twitter: @HALF_ter
__________________________
My name is Jesper Brun Halfter. I work as the Lead Game Designer at Bolverk Games.
On this site you can get a look into some of the projects I have worked on in the past.
__________________________
Work
(2019) Glyph VR
Lead Game Designer
Bolverk Games.
A virtual reality game.
Released for Steam and Oculus.
Glyph was born out of a simple VR prototype I developed which attempted to solve VR sickness associated with third-person-camera perspective in VR. My responsibility on the project was to take this popular in-house prototype from being just that, to become our next official VR title. With this title we not only took chances on innovative and unorthodox gameplay, but also the monetization model where we gave the base game away for free and charged up front for packs containing extra levels, an approach that was largely untested territory in the realm of VR at the time, and one that had a lot of potential in light of our long term plans at the time.
(2019) Dick Wilde 2
Lead Game Designer

Bolverk Games.
A virtual reality game.
Released for PlayStation 4, Oculus, Steam, and VIVEPORT.
My work and responsibilities on Dick Wilde 2 as the lead game designer were to shape the overall vision of the game with the publisher (PlayStack) and the Bolverk Games team while maintaining the scope of the game during the initial prototyping and throughout development. I took responsibility of the gameplay in terms of how enemies, weapons, powerups, and levels played together. I had hands deep into the game's balancing, level design, and progression.
(2017) Dick Wilde
Lead Game Designer
Bolverk Games.
A virtual reality game.
Released for PlayStation 4, Oculus, Steam, and VIVEPORT.
My responsibilities and work on Dick Wilde as the lead game designer involved leading and directing the game's vision and gameplay together with the team, directing feature prototyping, setting up frameworks for fruitful game testing, and participating actively in all meetings involving the design of the game. Beyond that I worked hands on on the design of enemies, weapons, levels, power-ups, balancing, and UX.
(2017 – 2018) House of Lunacy
Prototype Programmer and Assisting Game Designer
The Outer Zone.
PC game prototype pitched for DFI.
Not released at the time of writing.
It was my responsibility to prototype features with my lead game designer, participate actively in the game design process, and ensuring that the game was in a playable and presentable state whenever needed.
I worked on this project independently for The Outer Zone while working part time for Bolverk Games.
(2016) Kittypocalypse
Game Designer and Level Designer
Bolverk Games.
A virtual reality game.
Released for Oculus, Steam, and VIVEPORT.
I was hired by Bolverk Games late into the project and worked on designing levels intended for expert players as a part of a tryout period. On top of a short period of level design I worked on balancing all of the weapons in the game and renaming various game components.
__________________________
Before I worked professionally as a game designer
(2008 – 2012) 1st. Assistant / Head Cashier
For Fakta.
The job involved taking responsibility for the operation of the shop for the entirety of my shifts. I was responsible for counting cash at the end of shifts, ensuring the reports from registers were accurate, resolving issues for customers and cashiers whenever needed, ensuring the plans for daily tasks were on track, maintaining a positive work environment, and making sure the shop was ready for business in the mornings before opening the shop, as well as leaving the shop ready for business at the end of the day.
(2007 – 2008) Cashier
For Fakta.
I was responsible for processing sales transactions and interacting directly with customers while being as helpful as possible and doing my best to ensure that customers left the shop with smiles on their faces. I had the responsibility of helping my superiors whenever possible, which included a wide variety of chores.
(2005 – 2006) Greengrocer
For Prima (changed ownership and name to SuperBest).
I was responsible for the store's fruit & vegetables area whenever the boss was away or busy. I had to keep the area clean and presentable, help customers, and suggest customers dishes to cook based on the fruits and vegetables we had available. Beyond that I was tasked with doing various chores throughout the day.
---
Education
(2016) MA Design – Game Art, Design & Development
The Royal Danish Academy of Fine Arts' School of Design
(2014) BA Design – Game & Interaction Design
The Royal Danish Academy of Fine Arts' School of Design
(2011) Higher Technical Exam Programme (HTX)
HTX Vibenhus
(2007) Boarding School
Adventure Efterskolen
(2006) Primary School
Enghave Plads Skole