Version 8 of Picoban introduces some drastic changes to the visuals of the game.
In other words; no more purple hell. Instead, Picoban has received a new color scheme with lush gradients in strong contrast to a dark background. Have a look for yourself: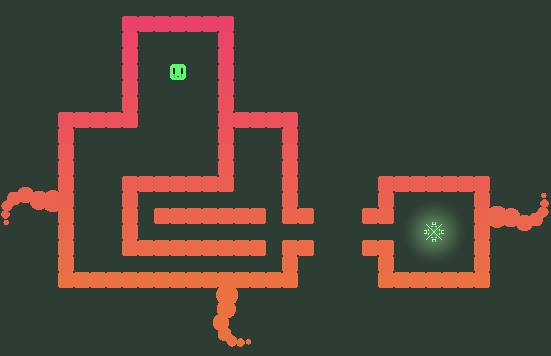 The reasoning behind this design choice is that I have received feedback from players that the blue/purple theme was simply not interesting enough, and I have to agree.
As the developer on the game I felt that the previous theme also limited creativity in terms of the use of colors. It is perhaps not true that the previous theme did in fact limit me, but I felt that way, and have been longing for something more striking in contrasts and with more color diversity than the overwhelming sea of purple.
If you where a big fan of the purple theme, please let me know. I have an idea about implementing support for different themes and perhaps allowing players to simply create their own. As the things are set up right now, it wouldn't take long to implement support for a theme picker.
Version 8 is up on itch.io.
I'm compiling for the Mac as soon as possible.
I will shortly let you in on the next step for the game. My plan is to start implementing features to make Picoban more speedrun friendly. Several testers have mentioned that the game would already now be suitable to do do speedruns in. I am no expert on what makes a game speedrun friendly, but I find the idea that people compete for the best time on a high skill level very interesting. It may just be a niche area where Picoban has potential to excel.
The features include:
A specific speedrun mode (the exact same game, but with a timer that starts once the player spawns the first time and stops once the player completes the final level).
An specific button for restarting the entire speedrun and the timer.
Time table (or highscore list with times instead of a score if you will).
Time tables for each individual level, making it easier for the player to check if they have improved.
A level loop switch, which allows the player to replay the same level repeatedly (when completed), to improve their time.
Not a feature; but I want to remove as much randomness as possible in areas where it could affect the time it takes to complete a level. In other words, it should by far be 'skill' that determines level time rather than chance.
Thank you for showing interest,
Jesper.