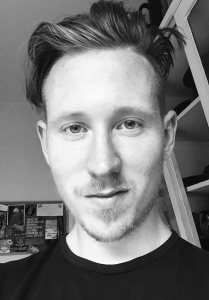 My name is Jesper Brun Halfter.
I am a game designer from Copenhagen, Denmark,
My current position is Game Designer for Bolvërk Games.
I hold a deep fascination for videogames and have dedicated most of my life to play, study, design and develop creations within the medium.
---
I studied game design at The Royal Danish Academy of Fine Arts School of Design for 5 years where I graduated with a bachelor's degree in Game & Interaction Design and a master's degree in Game Art, Design & Development.
---
I would categorize myself as a jack of all trades when it comes to game development. I enjoy working with concept development, project management and game design documentation. I am an amateur programmer able to do the programming necessary to develop games and prototypes in Unity and Game Maker Studio. I have many years of experience using Photoshop for visual design.  While I am no expert in audio design I have created the vast majority of sound effects and music tracks for the games I've created using FL Studio.
I started creating games as a kid making pen and paper role-playing games in the spirit of Dungeons & Dragons.
In my early teens I discovered Game Maker and started creating game prototypes. Ever since, developing and studying games has been a passion for me.